The Tradition of Mistletoe at Christmas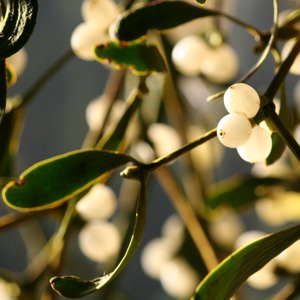 Mistletoe is a plant that grows on willow and apple trees (and in garden centres!). The tradition of hanging it in the house goes back to the times of the ancient Druids. It is supposed to possess mystical powers which bring good luck to the household and wards off evil spirits. It was also used as a sign of love and friendship in Norse mythology and that's where the custom of kissing under Mistletoe comes from.
When the first Christians came to Western Europe, some tried to ban the use of Mistletoe as a decoration in Churches, but many still continued to use it! York Minster Church in the UK used to hold a special Mistletoe Service in the winter, where wrong doers in the city of York could come and be pardoned.
The custom of kissing under Mistletoe comes from England. The original custom was that a berry was picked from the sprig of Mistletoe before the person could be kissed and when all the berries had gone, there could be no more kissing!
The name mistletoe comes from two Anglo Saxon words 'Mistel' (which means dung) and 'tan' (which means) twig or stick! So you could translate Mistletoe as 'poo on a stick'!!! Not exactly romantic is it!
Mistletoe was also hung on the old English decoration the Kissing Bough.
Christmas Lights Unlimited specializes in Large Holiday Light Displays across the United States.
Christmas Lights Unlimited will not install materials provided by clients, unless approved.
All products supplied by Christmas Lights Unlimited are made to the highest quality. Products selected by Christmas Lights Unlimited must meet the follow (1) Extension Cords are marine grade with waterproof twist connectors, (2) String Light Strands are solid molded with waterproof coaxial connectors, (3) All products manufactured exceed the Canada Requirements (exceeding USA Requirements), (4) Timers designed to handled 15AMPS / Peak 1,875 WATTS / Tungsten 1,875 WATTS to support a Constant 1,875 WATTS and (5) All electrical wiring are heavy duty commercial grade wire (AWG) with thicker electrical safety coatings.
Our Christmas Light Strands cannot be purchased in Big Box Stores.
Clients must meet strict electrical requirements with dedicated outlets for safety and proper installation for Christmas Lights Unlimited Displays.
Website powered by Network Solutions®