The Holly, Ivy and Christmas Plants
Holly, Ivy and other greenery such as Mistletoe were originally used in pre-Christian times to help celebrate the Winter Solstice Festival and ward off evil spirits and to celebrate new growth.
When Christianity came into Western Europe, some people wanted to keep the greenery, to give it Christian meanings but also to ban the use of it to decorate homes. The UK and Germany were the main countries to keep the use of the greenery as decorations. Here are the Christian meanings:
Holly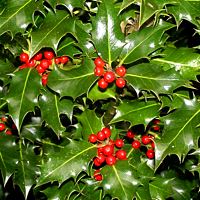 The prickly leaves represent the crown of thorns that Jesus wore when he was crucified. The berries are the drops of blood that were shed by Jesus because of the thorns.
In Scandinavia it is known as the Christ Thorn.
In pagan times, Holly was thought to be a male plant and Ivy a female plant. An old tradition from the Midlands of England says that whatever one was brought into the house first over winter, tells you whether the man or woman of the house would rule that year! But it was unlucky to bring either into a house before Christmas Eve.
Ivy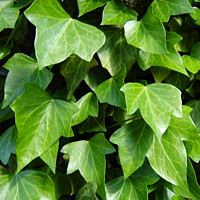 Ivy has to cling to something to support itself as it grows. This reminds us that we need to cling to God for support in our lives.
In Germany, it is traditional that Ivy is only used outside and a piece tied to the outside of a Church was supposed to protect it from lightning!
Laurel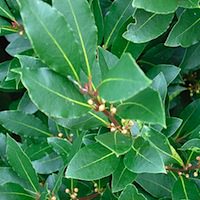 Laurel has been worn as a wreath on the head to symbolise success and victory for thousands of years.
It symbolises the victory of God over the Devil.
Fir & Yew Trees
Fir and Yew trees are evergreen and so signify everlasting life with God.
Fir is also very commonly used for Christmas Trees.
Rosemary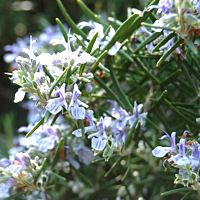 Rosemary was connected with the Virgin Mary (because it was thought to be Mary's favourite plant) and people thought that it could protect you from evil spirits. It is also sometimes called the friendship plant and it was the most common garnish put on the boar's head that rich people ate at the main Christmas meal in the Middle ages!
It is also known as the remembrance herb and was used at Christmas as this is the time that we remember the birth of Jesus.
In the late 1700s a special Christmas Rosemary Service was started in Ripon Cathedral School where a red apple, with a sprig of Rosemary in the top of it, was sold by the school boys to the members of the congregation for 2p, 4p or 6p (depending on the size of apple!).
Christmas Wreaths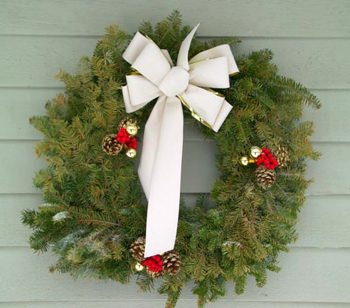 Hanging a circular wreath of evergreens during mid winter seems to go back a very long way. It might have started back in Roman times when wreaths were hung on their doors as a sign of victory and of their status. Rich Roman women also wore them as headdresses at special occasions like weddings and to show they were posh. Roman Emperors also wore Laurel Wreaths. They were also given to the winners of events in the original Olympic Games in Greece.
The word 'wreath' comes from the Old English word 'writhen' which means to writhe or twist. Christmas Wreaths as we know them today, might have started life as Kissing Boughs (see below) or come from the German and Easter European custom of Advent Wreaths.
Kissing Boughs or Kissing Bunches
In the UK, before Christmas Trees became popular and dating back to the middle ages, another popular form of Christmas/mid winter decoration was the Kissing Bough or Bunch. These were made of five wooden hoops that made the shape of a ball (four hoops vertical to form the ball and then the fifth horizontal to go around the middle). The hoops were covered with Holly, Ivy, Rosemary, Bay, Fir or other evergreen plants. Inside the hoops were hung red apples (often hung from red ribbons) and a candle was either put inside the ball at the bottom or round the horizontal hoop. The bough was finished by hanging a large bunch of mistletoe from the bottom of the ball. (For a simpler bough you could also just have a horizontal hoop decorated and hung with apples and the mistletoe.)
When should you take the greenery down?
It is traditional to take down the decorations on Twelfth Night (also known as Epiphany) on January 6th. But during the middle ages, greenery (including Mistletoe) was often left hanging up until Candlemas (when Christians celebrate Jesus going to the Jewish Temple as a baby) in early February!
Christmas Lights Unlimited specializes in Large Holiday Light Displays across the United States.
Christmas Lights Unlimited will not install materials provided by clients, unless approved.
All products supplied by Christmas Lights Unlimited are made to the highest quality. Products selected by Christmas Lights Unlimited must meet the follow (1) Extension Cords are marine grade with waterproof twist connectors, (2) String Light Strands are solid molded with waterproof coaxial connectors, (3) All products manufactured exceed the Canada Requirements (exceeding USA Requirements), (4) Timers designed to handled 15AMPS / Peak 1,875 WATTS / Tungsten 1,875 WATTS to support a Constant 1,875 WATTS and (5) All electrical wiring are heavy duty commercial grade wire (AWG) with thicker electrical safety coatings.
Our Christmas Light Strands cannot be purchased in Big Box Stores.
Clients must meet strict electrical requirements with dedicated outlets for safety and proper installation for Christmas Lights Unlimited Displays.
Website powered by Network Solutions®